Mumford Commits to Carleton Ravens
---
---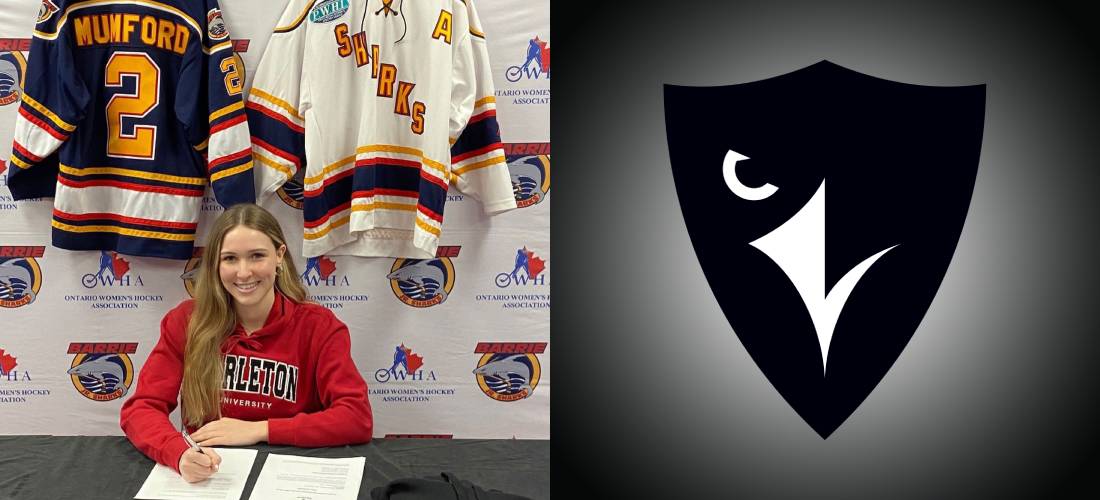 ---
On February 28, 2022, Julia Mumford announced her commitment to play hockey with the Carleton University Ravens starting in the 2023-24 season.
Born and raised in Bradford, Ontario, Julia Mumford joined the Jr. Sharks in the 2020-2021 season, is a right handed defense, and has served as assistant captain for Sharks for the past two seasons. Off the ice, Jules is a strong student with a 94% average at Bradford District Secondary School, where she will graduate in June, 2023.
Carleton University is located in Ottawa, Ontario and is attended by just over 31,000 students. The Carleton Ravens women's hockey program is a USports team that plays in the RSEQ (Réseau du sport étudiant du Québec) - the governing body for collegiate and University sport in Quebec. The Ravens play regular season games against teams from Ottawa and Quebec.
Jules is excited to get the opportunity to play varsity hockey for the Carleton Ravens. "When I toured the school with a former Sharks teammate, I love the facilities and the staff I met," explained Jules.
Mumford plans to study Business at Carleton and is looking forward to living on campus.
"The campus is great and the arena, the residence buildings and the new Sprott School of Business building are all within a few minutes walk. My dad also attended Carleton and loved it - he's always talking about how I can use the tunnels under campus to go to class in my PJ's."