Robinson Commits to Carleton Ravens
---
---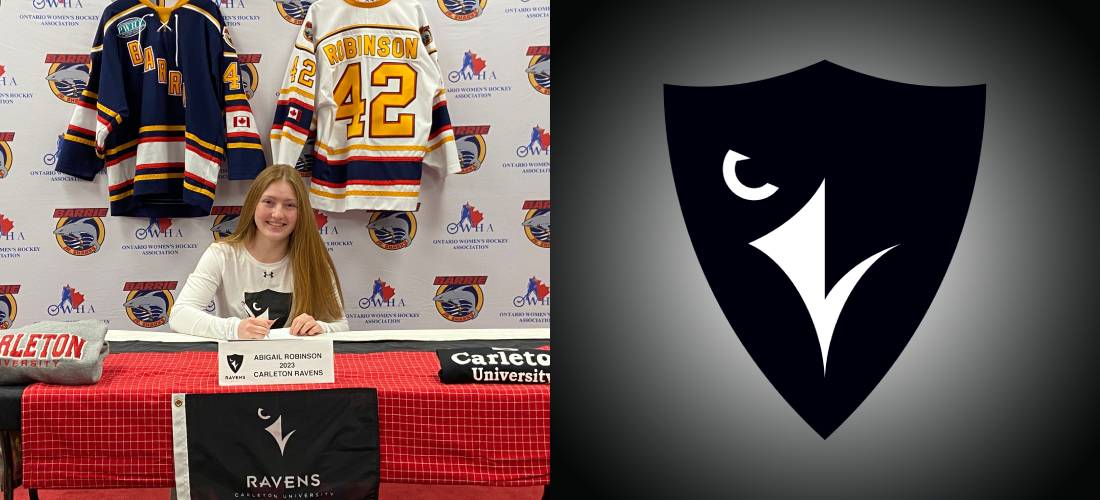 ---
On December 30, 2021 Abby Robinson announced her commitment to play hockey with the Carleton University Ravens starting in the 2023-24 season.
Abigail Robinson was born and raised in Barrie, Ontario, and has played as a Shark for 14 years, first joining the BWHA's U7-Fundamentals program in 2009. In addition to being an elite hockey player, Abby is also an elite student with a 96% average at Bear Creek Secondary School where she will graduate in June, 2023.
Carleton University is located in Ottawa, Ontario and is attended by just over 31,000 students. The Carleton Ravens women's hockey program is a USports team that plays in the RSEQ (Réseau du sport étudiant du Québec) - the governing body for collegiate and University sport in Quebec. The Ravens play regular season games against teams from Ottawa and Quebec.
"The Ravens team is focused on hard work, which is a very important factor for how I play my game," explained Robinson. "The team was represented to me as a real family dynamic, a great group of girls who share love and passion for the sport. Coach Stacey has made some great headway and I greatly respect her as a coach and person based on her goals and her past achievements."
Robinson plans to study Architectural Conservation or Engineering at Carleton University. "Carleton has a very beautiful campus and is one of the top schools for the program I would like to study, " Robinson said. "The school is an extremely close-knit community and it felt a lot like home when I toured the campus. The sport and residence facilities are top notch and offer a great place to grow as a student and athlete."