Koski accepts offer to play with McKendree University Bearcats
---
---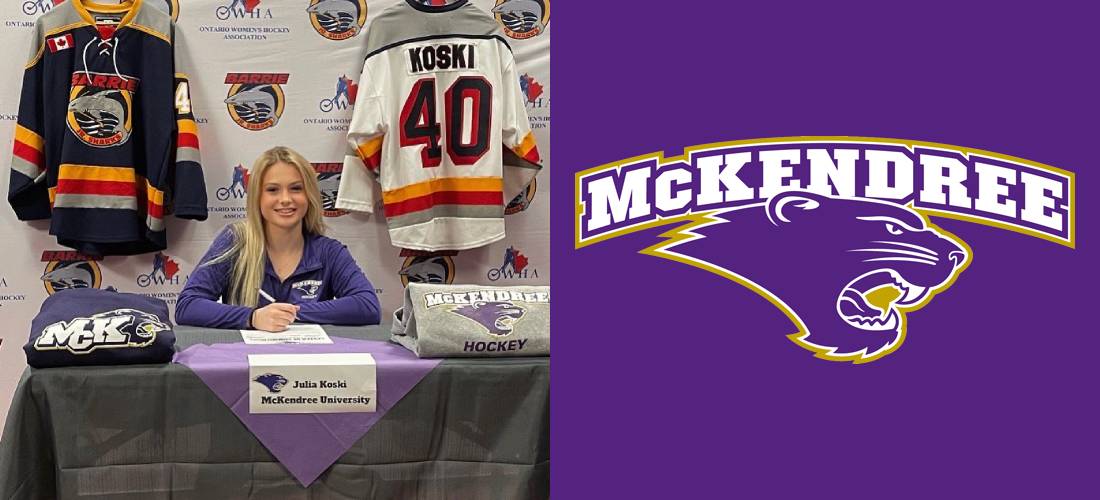 ---
On November 6, 2022 Julia Koski announced that she had accepted an offer to play hockey with the McKendree University Bearcats starting in the 2023-24 season.
Born and raised in Hillsdale, Ontario, Julia Koski and has played as a Shark since the 2016-17 season and has been a member of our Jr. Sharks for the past two seasons. Julia is a grade 12 honours student at St. Theresa's Catholic High School in Midland and will graduate in June, 2023.
McKendree University is a private university in Lebanon, Illinois - just 30km east of St. Louis, Missouri and is attended by just over 3,000 students. The McKendree Bearcats women's hockey program is an ACHA Division 1 (American Collegiate Hockey Association) team that plays in the Women's Midwest College Hockey League. The Bearcats play regular season games against ACHA teams from Virginia, Missouri, Illinois, Nebraska, Minnesota and North Dakota.
Julia's dream has long been to play at the University level in the United States. "After visiting the campus and meeting the team, I could sense the closeness of the Bearcat family," said Koski. "I spent a lot of time talking with the Bearcats Coach Derek Pallardy and I really appreciated his openness and continuous communication."
Another factor in her decision was the size of the school and the smaller class sizes that she believes will be a good fit for her. Koski plans to study Sports Management, a 4-year degree program at McKendree University which has a 100% post-grad employment rate.