Edwards Commits to Brown University Bears
---
---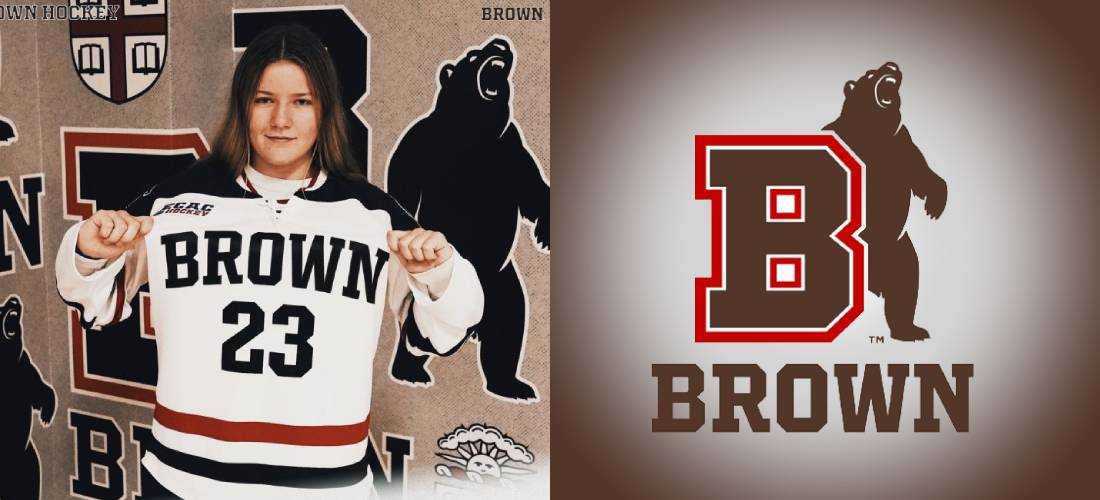 ---
On November 8, 2022 Rory Edwards announced her commitment to play hockey with the Brown University Bears starting in the 2023-24 season.
Rory Edwards, from Schomberg Ontario, has played with the Barrie Sharks since the 2018-19 season and has been a goalie with our Jr. Sharks for the past two seasons. Rory is a grade 12 honours student at Bill Crothers Secondary School in Markham, Ontario and will graduate in June, 2023.
Brown University is located in Providence, Rhode Island and has an enrollment of just over 10,000 students. The Brown Bears women's hockey program is an NCAA Division 1 (National Collegiate Athletic Association) team that plays in the ECAC Hockey League. The Bears play regular season games against NCAA-D1 teams from Massachusetts, Connecticut, New Hampshire, Rhode Island, New Jersey and New York.
"I'm really looking forward to joining such a great group of hockey players," explained Edwards. "The vision and commitment of head coach Melanie Ruzzi and assistants Justin Simpson and Beth Hanrahan is contagious and I'm excited to be a part of the team's journey as we strive to grow from underdogs to a nationally ranked team." Rory added, "As a freshman on the team, I'll also get the opportunity to and learn from one of the best goalies in NCAA Women's hockey."
Edwards is also attracted to Brown's strong commitment to student success, and the opportunity to earn an Ivy League degree. Edwards plans to enroll in Biology or Pre-Med and notes "Brown's open curriculum will be the perfect environment for me to work towards my academic goals," she explained.