Dusome Commits to Toronto Metropolitan University Bold
---
---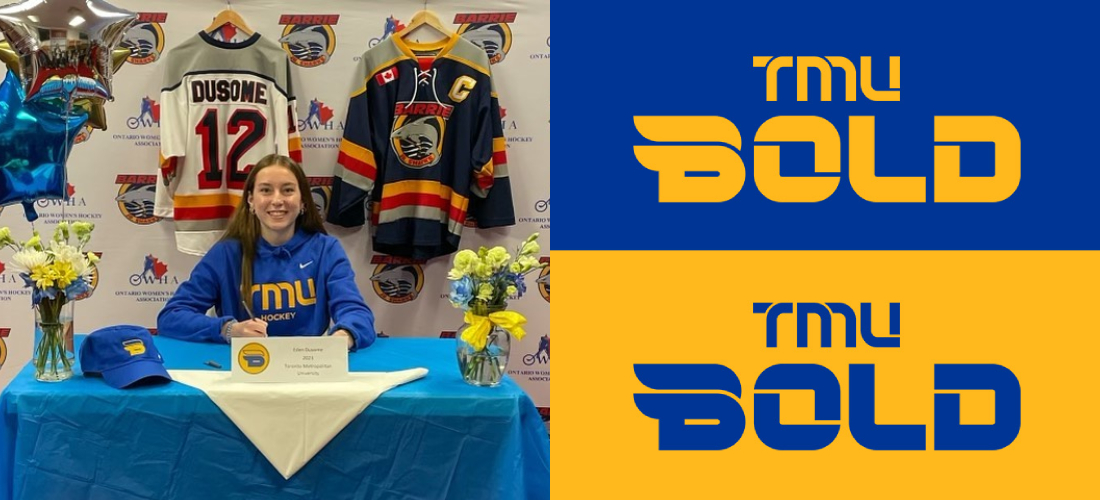 ---
On January 6, 2023, Eden Dusome announced her commitment to play hockey with the Toronto Metropolitan University Bold starting in the 2023-24 season.
Born and raised in Midland, Ontario, Eden Dusome has played with the Barrie Sharks since the 2014-15 season. Eden has been a member of our Jr. Sharks for the past two seasons, and is Captain of the 2022-23 team. Eden is a grade 12 honours student at St. Theresa's Catholic High School in Midland, where she will graduate in June, 2023.
Toronto Metropolitan University (formerly Ryerson University) is located in Toronto, Ontario and is attended by 47,000 students. The Bold (formerly the Rams) women's hockey program is a USports team that plays in the Ontario University Athletics conference. The Bold play regular season games versus 11 other teams from across the province.
Dusome was impressed by the family oriented feeling she felt during her visit to the school. "I'm excited to play for the TMU Bold," explained Dusome, "because I'll have all of the excitement of Toronto while still being relatively close to home." Dusome is also very excited to practice and play in the Mattamy Athletic Centre, the amazing facility transformed from the historic Maple Leaf Garden arena.
Dusome plans to study Criminology at Toronto Metropolitan University and is looking forward to living on campus in the heart of downtown Toronto. "I love how close everything was - the residence, the Mattamy Athletics Centre, my classes, and all of the nearby stores."