Foerster Commits to Adrian College Bulldogs
---
---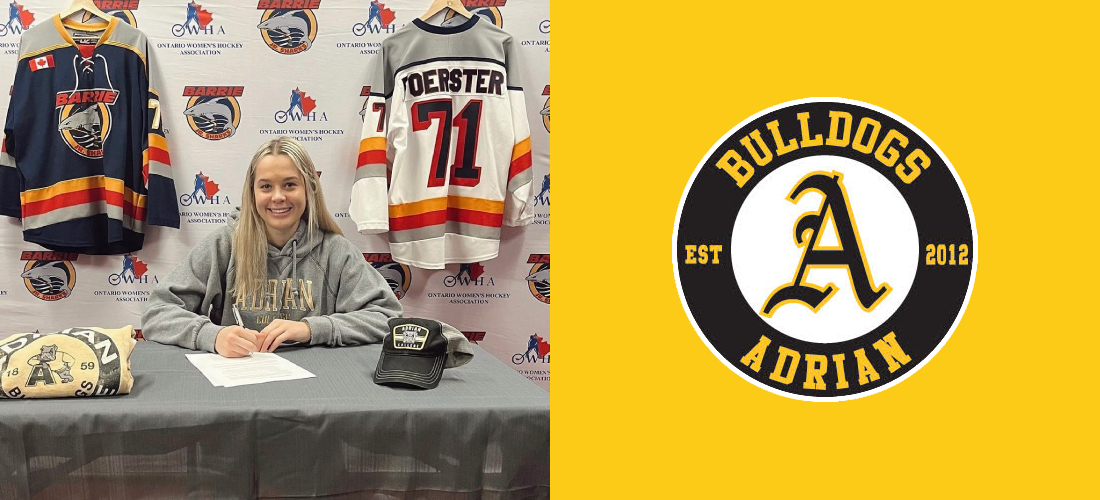 ---
On January 22, 2023, Kali Foerster announced her commitment to play hockey with the Adrian College Bulldogs starting in the 2023-24 season.
Raised in Alliston, Ontario, Kali Foerster has played as a Shark since the 2015-16 season. Kali has been a member of our Jr. Sharks for the past two seasons and is a grade 12 honours student at Banting Secondary School in Alliston where she will graduate in June, 2023.
Adrian College is a private liberal arts college attended by just under 2,000 students. The school is located in Adrian, Michigan, which is 100 km southwest of Detroit. The Bulldogs women's hockey program is an ACHA Division 1 (American Collegiate Hockey Association) team that plays in the Central Collegiate Women's Hockey Association (CCWHA). The Bulldogs play regular season games against ACHA teams from Ohio, Pennsylvania, Michigan and Illinois.
Kali is excited to attend Adrian College join the Bulldogs, and was very impressed following a recent trip to the Michigan college. "The coach was really nice and the teams is doing really well. I am very excited to play for." She also noted that the school's focus on athletics means that it feels like everyone you meet plays on a team. With three former Barrie Jr. Sharks on this season's roster, and current teammates Taryn Morris and Syd White also committing to the team, Foerster will certainly see plenty of familiar faces in the Bulldogs dressing room.
Kali Foerster plans to study in the Exercise Science / Bachelor of Science program at Adrian, and she's excited to call the new campus home. "The school was really nice and the facilities are top-notch, and I can't wait to get started in the fall of 2023."