Emerson Commits to Canton State University of New York
---
---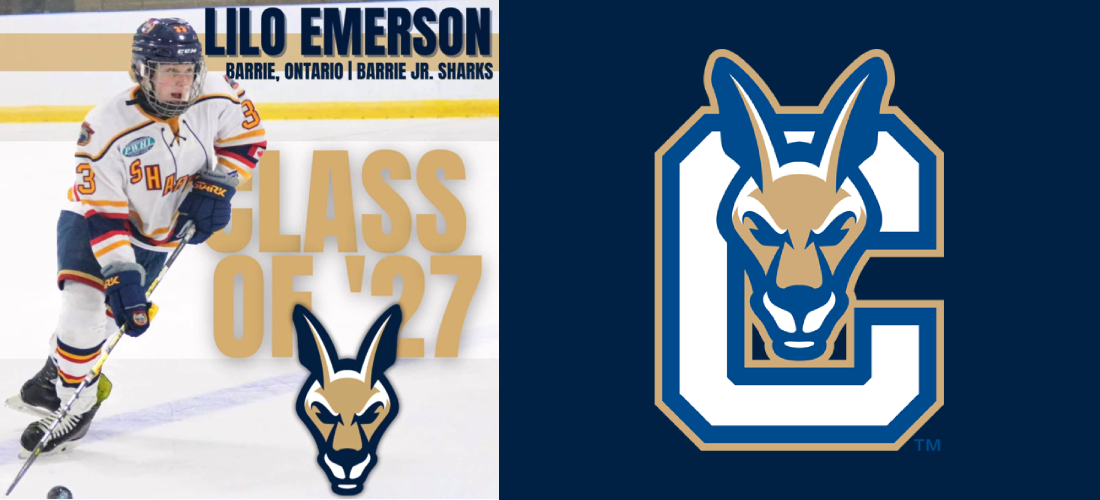 ---
Jr. Sharks alumni (2021-2023) Lilo Emerson is hopping to a new destination this fall, after committing to the Canton State Kangaroos.
Born in Toronto and raised in Barrie, Lilo Emerson has played as a Shark for 10 seasons, first starting with the Novice (U9) pink house league Sharks in 2013. Lilo was a member of the Barrie Jr. Sharks for the 2021-22 and 2022-23 seasons, and graduated as an honours with distinction student from Eastview Secondary School in June, 2023.
The Canton State University of New York's women's hockey program is an NCAA Division III program that played in the Northeast Women's Hockey League (NEWHL) in the 2022-23 season. The NEWHL - a former hockey-only conference - has been absorbed by the State University of New York Athletic Conference (SUNYAC) starting in the 2023-24 season and will include 7 teams from across New York state.
Lilo is excited to be join a strong Canton Kangaroo's team that finished 4th in their conference last season - the first year for new head coach Kalie Grant, who came to Canton after many seasons as an assistant coach at Adrian College. "Coach Grant immediately gave me a great feeling of confidence that this is a strong hockey program with plans to get to the top of their conference," said Lilo Emerson. "This will also be my first ever female coach, and I can tell from our conversations that she will bring a unique perspective based on her experiences as an elite Division 1 player."
Lilo will study Civil Engineering at Canton State and is looking forward to exploring the beautiful Adirondack foothill country of north New York State, just 30 minutes south of the St. Lawrence River and the Canada-US border.